Cleanroom
It goes without saying that your product will leave our premises clean and completely wrapped in foil. For this purpose, Van Geenen has Cleaning baths, Ultrasonic baths and clean wrapping rooms at its disposal.
You can even take this a few steps further to clean products on a "high-tech level". Van Geenen also has a cleanroom and the necessary certificates.
Pipes, tubes and strips
One of the most well-known refined metals is, of course, Stainless Steel. It is therefore not surprising that kilometres of stainless steel pipes, tubes and strips are processed in the metalworking industry on a daily basis. The material is extremely strong, and it has properties that can be adjusted as required without having to apply a (galvanic) layer. Because we can decrease the surface roughness. Either seal the pores to the maximum, increase the corrosion resistance or create an nice mirror effect. Just a few examples that can be realised by grinding and polishing. Ask Van Geenen about the possibilities and receive free advice.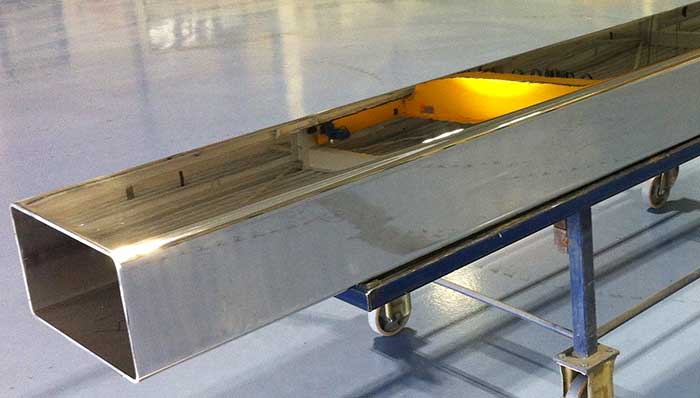 Sheet metal up to 16,000 x 6,000 mm

Long-belt Grinding machines

Sheet metal up to 14,000 x 2,000 mm

Wide-belt Grinding machines

Sheet metal up to 16,000 x 3,500 mm

Polishing machines

tubes, strips and sheet metal

grinding machine with 5 heads

Most diverse blades

Wide-belt machines