PVD-coating / TiN-coating
Special operations for special projects
Ground, polished or sandblasted finish
Champagne, Gold, Rose Gold, Bronze or Black
For years, Van Geenen has distinguished itself in the field of mechanical processing of metal surfaces, but increasingly sees the need in architects, product designers and designers to combine this with a PVD coating.
This is particularly focused on the aesthetic, visual level, where many special, unusual effects can be achieved with colours of stainless steel. For years, Van Geenen has had a close, intensive collaboration with MirrorINOX from Germany where the best of 2 worlds comes together. In particular, the professional possibilities in the field of PVD and Nano coating on stainless steel sheets are a huge addition to our package. Van Geenen is the official and exclusive partner for the BeNeLux regarding the product range of MirrorINOX.
Why PVD?
The best look for your project
The terms PVD Coating, Tin Coating or Titanium Nitride Coating stand for the same process and, unlike galvanic processes, no environmentally harmful or toxic substances are used. The extremely thin layers are by nature very metallic and lively in appearance, which clearly distinguishes them from powder coating and wet painting. In addition to the technical advantages, such as increased corrosion resistance due to the hard coating, fascinating, visually appealing colour shades can be created, such as Champagne, Yellow/Gold/Brass look, Red/Copper, but also Bronze shades, Black and Anthracite.
And each time with a different surface, for example a ground, polished or sandblasted finish, which gives a very exclusive look to the stainless steel sheet. This allows architects or designers to create brilliant designs for both indoors and outdoors.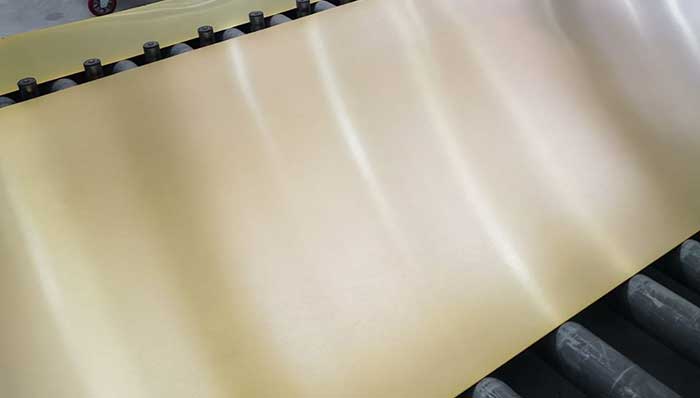 Sheet metal up to 16,000 x 6,000 mm

Long-belt Grinding machines

Sheet metal up to 14,000 x 2,000 mm

Wide-belt Grinding machines

Sheet metal up to 16,000 x 3,500 mm

Polishing machines

tubes, strips and sheet metal

grinding machine with 5 heads

Most diverse blades

Wide-belt machines