For a great job in the metal industry
Come and work at Van Geenen!
Constantly looking for motivated employees
Van Geenen Metal finishing is a specialist in the field of metalworking and is actively involved in stainless steel finishing every day. Because of the beautiful assignments we are allowed to carry out, we are continuously looking for motivated employees. A metal background is an advantage but not a prerequisite. We ask for the right mentality and attitude. Van Geenen will then do everything to get you to the desired level. In addition, we ensure good working conditions and employment terms.
Unfortunately, we do not have any specific open vacancies at the moment, but are you convinced that you can be an addition to Van Geenen? Then please contact us.
Accredited training company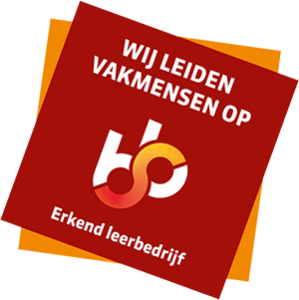 Van Geenen Metal finishing pays a lot of attention to training young people in the metal industry and has
been accredited as a training company by the Co-operative organisation for vocational education and business (SBB).
Partly through the accredited training company certification, Van Geenen shows that it recognises the quality and importance of craftsmanship and that it wants to guarantee and stimulate this. Van Geenen also offers the possibility of a learning/work programme.